Course details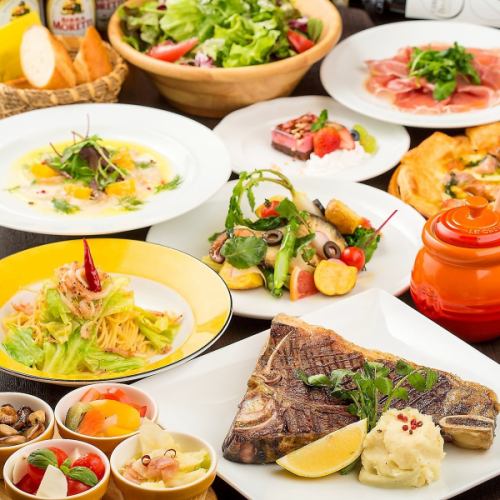 "Standard Party Course" with 2.5 hours of unlimited drinks! Popularity No. 1 ☆ 【10 items 6000 yen ⇒ 5000 yen】
By using a coupon5000 Yen
10items

20persons

-

All-you-can-drink available

【BEE HOUSE All you can drink MENU】
Standard Party course! 10 items + 2.5 hour system so relaxed & satisfied feeling! The appetizer is a popular dried fruit and muscarpone's bruschetta, plus a popular raw ham platter, a fresh fish carpaccio, the main boiled pie pizza ♪ Please enjoy honey with the honey marinated roast of whey pork by all means!
Course menu
【1 item】 Caprese
【2 items】 Bruschetta with dried fruit and mascarpone
【3 items】 Caesar salad
【4 items】 Assorted raw ham
【5 items】 fresh fish carpaccio
【6 items】 Cheese French Fries
【7 items】 PIE PIZZA Margherita
【8 items】 Seasonal PASTA
【9 items】 Whey pork honey marinated roast
【10 items】 Fruit & cake platter
※ Buffet style.
=====================
◎ Explanation of course ◎
※ Reservation required one week in advance is required.
※ All you can drink (30 minutes before the last order)
* All you can drink at + 500 yen S Plan grade UP available.
※ Friday, Sunday and public holiday will be + 500 yen.
※ 20 people will be available.
※ We will correspond as much as possible according to customer's request such as amount, contents · time, please feel free to inquire.
All-you-can-drink menu
· <Free> A plan
· 【BEER】
· Clear Asahi
· 【HIGH BALL】
· Black Nikka Clear High Ball / Ginger High Ball / Cola High Ball
· 【COCKTAIL】
· Cassis / Peach / Lychee / Gin / Vodka / Tequila (Soda / Orange / Grapefruit / Tonic / Oolong Tea)
· 【SOUR】
· Lemon Sour / Grape Sour / Orange Sour / Oolong Hi / Green Tea High
· 【JAPANESE SAKE】
· Tou and (potato) / Yan and (Wheat)
· 【WINE】
·Red and white
· 【SOFT DRINK】
· Orange / grapefruit / cola / ginger ale / oolong tea / green tea
· Upgrade at <+ 500 yen> S plan (A plan + the following content is all you can drink!
· 【BEER COCKTAIL】
· Shandigafu / Muscat beer / La France Beer / Cassis beer / Blueberry beer
· 【HIGH BALL】
· Jacques Daniel High Bowl / Apple Wine High Ball / Jack Daniel Tennessee Honey High Ball
· 【JAPANESE SAKE】
Magnificent
· 【WINE】
· Sangria (red / white)
Reservation deadline

Seven days before the desired shop date until 23 o'clock
Available days for reservation

Monday - Sunday - Public holidays - Holidays
2018/12/15 update